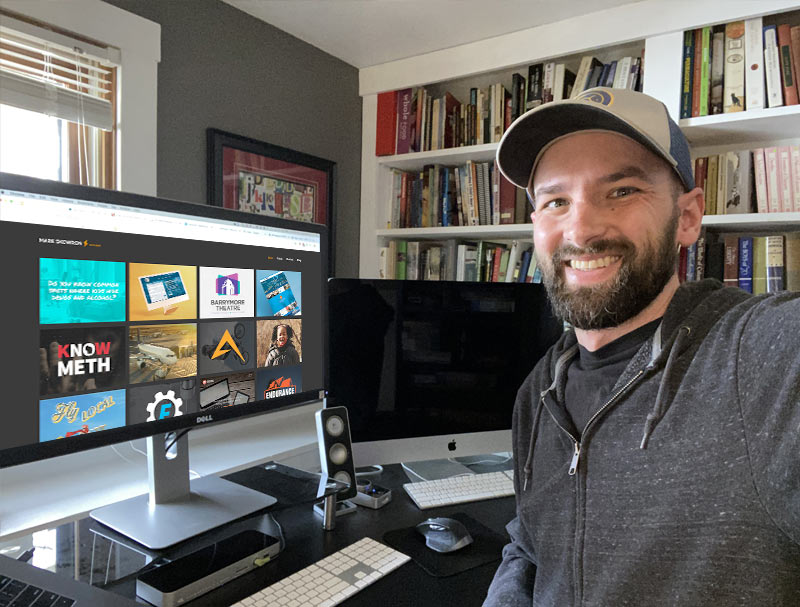 About Mark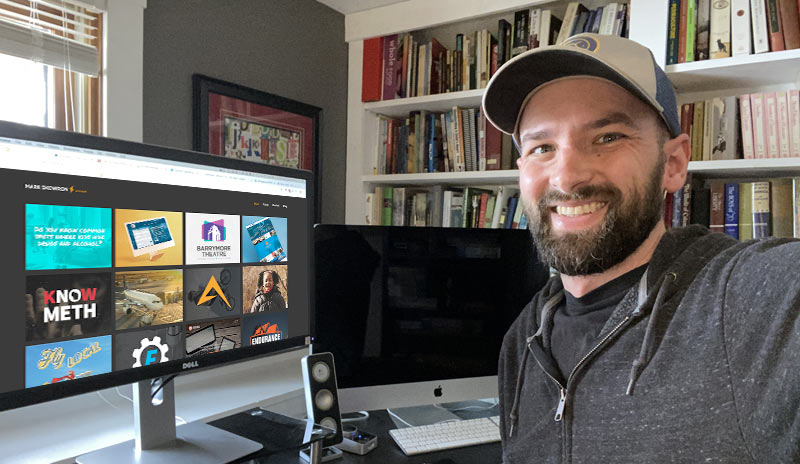 I'm a senior digital designer with over a decade of experience in web design and development, graphic design, art direction, branding, and more. My work spans multiple creative areas, including website design and front end development, large-scale UI/UX design, app design, animated HTML5 advertising, branding, packaging design, and all types of traditional print design.
How I work
My goal is to help you succeed. I start by learning everything I can about your business, studying your brand, and analyzing your goals. Taking what you're trying to communicate and forming it into powerful and visually stunning designs, your business or product is elevated above your competition.
Technical proficiencies
I have extensive experience in Adobe Creative Suite, HTML5, CSS3, JQuery, WordPress, App Design, Responsive Design, Axure RP, GIT, SVN, Visual Studio and more.
Do I like to have fun?
Of course! When I'm not working, you'll find me spending time with my family and enjoying the great outdoors. I also can't resist a project where I'm creating, remodeling, or restoring something.
GOLD ADDY
2022 AMERICAN ADVERTISING AWARDS
Category: Integrated Media Public Service Campaign
Company: AFFIRM Agency
Advertiser: AFFIRM Agency
Entry: Wisconsin Department of Transportation, Bobby Portis CONTROL YOUR DRIVE Campaign

GOLD ADDY
2022 AMERICAN ADVERTISING AWARDS
Category: Integrated Media Public Service Campaign
Company: AFFIRM Agency
Advertiser: AFFIRM Agency
Entry: GO BLOOMINGTON! Program Launch

GOLD ADDY
2022 AMERICAN ADVERTISING AWARDS
Category: Public Service Online/Interactive
Company: AFFIRM Agency
Advertiser: AFFIRM Agency
Entry: GO BLOOMINGTON! TDM Program Website

BRASS ADDY
2022 AMERICAN ADVERTISING AWARDS
Category: Online/Interactive Website | Consumer
Company: AFFIRM Agency
Advertiser: AFFIRM Agency
Entry: Levin Ginsburg Attorneys Website

SILVER ADDY
2020 AMERICAN ADVERTISING AWARDS
Category: Self Promotion
Company: AFFIRM Agency
Advertiser: AFFIRM Agency
Entry: AFFIRM Self Promotion: Holiday Letters

GOLD ADDY
2019 AMERICAN ADVERTISING AWARDS
Category: Cross Platform - Public Service - Integrated Media Public Service Campaign
Company: AFFIRM Agency
Advertiser: AFFIRM Agency
Entry: WCASA By Your Side Campaign
Credits: Laura Monagle, Account Executive / Dena Vang, Assistant Account Executive / Steven Stocker, Creative Director / Mark Skowron, Senior Web Designer / Ryan Quade, Art Director / Emma Spaude, Copywriter / Danny Mager, Account Supervisor
SILVER ADDY
2019 AMERICAN ADVERTISING AWARDS
Category: Elements of Advertising - Visual - Logo Design
Company: AFFIRM Agency
Advertiser: AFFIRM Agency
Entry: Barrymore Theatre Branding
Credits: Danny Mager, Account Supervisor / Mark Skowron, Senior Designer
SILVER ADDY
2019 AMERICAN ADVERTISING AWARDS
Category: Online/Interactive - Websites - B to B
Company: AFFIRM Agency
Advertiser: AFFIRM Agency
Entry: Laura's Gourmet Granola
Credits: Danny Mager, Account Supervisor / Mark Skowron, Senior Web Designer / Ryan Quade, Art Director / Amy Opad, Account Executive
GOLD ADDY
2018 AMERICAN ADVERTISING AWARDS
Category: Cross Platform - Integrated Branded Content Campaign - Local or Regional/National
Company: AFFIRM Agency
Advertiser: AFFIRM Agency
Entry: Dane County Airport FLY LOCAL
Credits: Danny Mager, Copywriter/Account Supervisor / Traci Brice, Senior Graphic Designer / Mark Skowron, Digital Designer / Laura Monagle, Account Executive / Steve Stocker, Creative Director / Emma Spaude, Copywriter / Dena Vang, Assistant Account Executive / Ryan Quade, Graphic Designer
SILVER ADDY
2017 AMERICAN ADVERTISING AWARDS
Category: Advertising Industry Self-Promotion Film, Video & Sound
Company: AFFIRM Agency
Advertiser: AFFIRM Agency
Entry: AFFIRM Holiday Mannequin Challenge
Credits: Danny Mager, Copywriter / Emma Dixon, Copywriter / Ryan Quade, Art Direction / Mark Skowron, Art Direction / Ross Monagle, Videography/Editing
GOLD ADDY
2017 AMERICAN ADVERTISING AWARDS
Category: Integrated Brand Identity Campaign - Local or Regional/National
Company: AFFIRM Agency
Advertiser: Pines Bach Attorneys-at-Law LLP
Entry: Pines Bach Law Firm Rebranding
Credits: Danny Mager, Account Supervisor/Copywriter / Steve Stocker, Creative Director / Ryan Quade, Senior Graphic Designer / Karissa Holzbauer, Account Executive / Cathy Looze, Media Director / Emma Dixon, Copywriter / Mark Skowron, Senior Digital Designer