The challenge: Create custom storefront banners for my client, a real estate firm in Chicago. This task was particularly difficult, as I had to not only design attractive banners that conveyed my client's message, but one of the banners had to be designed to wrap around a flat-screen TV in their window.
Some of the problems we initially ran into was deciding on the correct banner material. I chose to print it on a cloth-like material that was light-weight and allows light to still come into the office. This was a big concern for the client, since these windows are their only source of natural light. Other options for material would have been heavy vinyl (that wouldn't let any light in), or adhesive vinyl (the type that goes on city buses). This would have let plenty of light in, but the print quality would have looked horrible up-close, and the client needed something that could be removed easily. So the cloth material was our best solution.
The Design
The client's number one goal was to increase foot traffic in their office. Located in the heart of Chicago just blocks from the Trump Tower, their office is in a prime location, being on street level. These banners would be seen by thousands of people as they walk by.
Below are photos of the final finished product: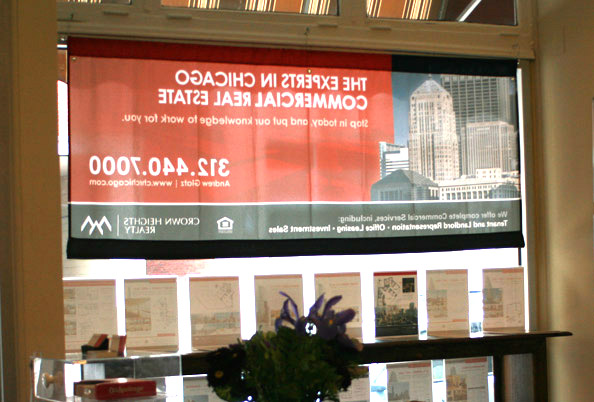 At the end of the day, the client was extremely happy and the project was a success. Foot traffic increased dramatically in the first week, and these banners will hopefully draw in plenty of business in the coming years.